Our Supporters
2014 marks our 10th anniversary as a Centre dedicated to transforming the lives of children who have experienced, or are at risk of experiencing, abuse and neglect.
Our 10th anniversary also marks our first year of operating independently of annual federal funding, which, over the past decade, has been matched by our ability to secure grants and contract research and consultancies from government and non-government agencies.
Looking to the future, we believe we can continue to make the greatest differences to the lives of vulnerable children, by continuing to partner with philanthropic, government and non-government agencies.
Our Ambassador for Children, Aunt Sue Blacklock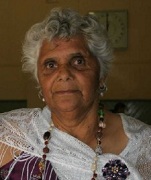 The Centre is honoured to have Aunt Sue Blacklock, respected Elder of the Nucoorilma people from Tingha, part of the Gamilaraay nation, as our inaugural Ambassador for Children. Aunt Sue is a passionate advocate for Aboriginal children and young people and is concerned about the number of Aboriginal young people in out-of-home care, outside of community.
"It's a privilege and an honour to be an Ambassador for the children, my main aim is to make sure kids are safe and that they have a voice and that they are heard."


Become a Supporter!
There are a number of ways to support the important work of the Australian Centre for Child Protection to continue to build our capacity to work at a national and international level, advancing innovation and reform in child protection policy and practice. This includes helping to support and develop the next generation of child protection researchers.
To find out ways to further support the work of the Centre or to engage with us please contact Lisa McDonald, Development Manager on +61 8 8302 1385.