Three Minute Thesis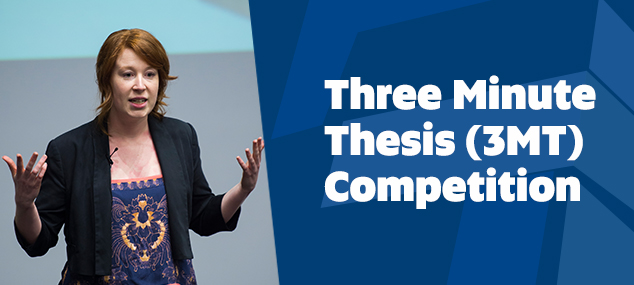 Hannah Thomas, PhD Candidate, School of Pharmacy and Medical Science, First Prize and People's Choice winner of the 2017 UniSA 3MT Final
Division of Health Sciences 3MT® Competition
What is 3MT®?
The Three Minute Thesis (3MT®) was developed by The University of Queensland. It is an academic competition for research students, challenging them to present their research to a non-specialist audience, giving them the opportunity to practice their public engagement skills.
Who can take part?
Anyone who is active in a PhD (at any stage except provisional candidates, but including thesis under submission)
To see the rules of the competition, judging criteria and eligibility, please review the information here.
What is the format?
Participants present their research verbally in just three minutes with related content presented on just one PowerPoint slide. Heats and finals take place in each of the 4 Divisions. Those chosen from the Divisions go through to UniSA's Grand Final.
In their presentations, participants should explain:
What your research is about
How you intend to carry out your research
Why your research matters or/and who it affects
Why take part?
This event gives an opportunity for students to acquire transferable skills which are necessary within academia and outside, such as, presenting, speaking in front of a public, communicating complicated ideas and concepts in an understandable manner. It provides an opportunity to think creatively about how to communicate your research and to learn from the approaches of other participants.
Are there prizes involved?
The winners and runners-up of our Divisional Final will win Apple product prizes and everyone who takes part receives a certificate.
The Division finalists then perform their presentations at the Grand Final to a wide-ranging audience, including invited guests and alumni, to showcase the wide diversity of ground-breaking research taking place at UniSA.
The overall winner of the competition and the runner up will win substantial prizes. The audience also votes for its favorite presentation so that one finalist receives a People's Choice Award of an additional prize.
What did the previous 2017 winner think?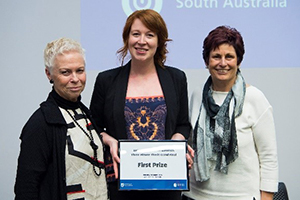 Hannah said "Distilling years of research into just three minutes is a very difficult task but communicating this research to an audience beyond the academic world is essential. That's why this competition is so valuable for students. It builds important career skills and can lead to some exciting opportunities for research collaborations. The benefits last well beyond the competition".'
Division of Health Sciences 3MT® competitors
Check out the previous Division of Health Sciences 3MT® students
2018
2017
2016
3MT® schedule for the Division of Health Sciences for 2018
Date

Activity or Workshop name

Monday 29 April 2019
Nomination process for PhD candidate competitors in the Division of Health Sciences. So, you're up for the 3MT® challenge? Register by 29th April to be involved here All sessions will be facilitated by Dr Wendy Bastalich, Research Education Adviser, Research and Innovation Services. All workshops can be booked here
City

West

City

East

Mawson Lakes
5 June,
1-3pm,
GK5-19
1 May, 10-12pm,
P5-04
17 May, 2-4pm,
H1-42
Workshop 1: Defining the key elements of a great 3MT® presentation Registration is required for this session here
19 June, 1-3pm,
GK5-19
3 June, 1-3pm,
C5-49
31 May, 2-4pm,
H1-42
Workshop 2: Receive feedback on your first draft of 3MT® Registration is required for this session here
2 July, 1-3pm,
GK5-19
14 June, 10-12pm,
H1-42
Workshop 3a: First practice session of 3MT® Please register for this session here
3 July, 1-3pm,
GK5-19
14 June, 2-4pm,
H1-42
Workshop 3b: First practice session of 3MT® Please register for this session here
City East Tuesday, 30 July 2019, 10.30am
Brookman Hall, B5-09
Division of Health Sciences 3MT® Final. The Division's top 3 competitors will compete for a spot at the University finals – come along and support our PhD candidates and vote for your favourite 3MT® presentation in the People's Choice Award.
Thursday 29 August 2019, 6-8pm Allan Scott Auditorium, Hawke Building, City West
UniSA 3MT® Finals. The top PhD candidates from each Division at UniSA will compete for a place at the Asia-Pacific Finals to be held at the University of Queensland.
4 October 2019
Asia-Pacific Finals @ University of Queensland
For further information about the Division of Health Sciences 3MT®, please contact: HSC-HealthResearch@unisa.edu.au or phone 8302 1677.