Bachelor of Psychological Science (Counselling and Interpersonal Skills)
May 11 2015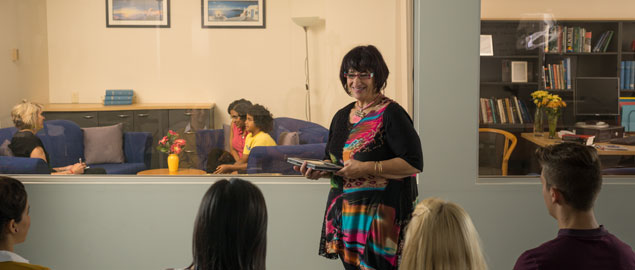 Recent changes to the program have enhanced the work-readiness of graduates
These changes have been recognised nationally in the form of an award from the Australian Federal Government Office of Teaching and Learning
The Bachelor of Psychological Science (Counselling and Interpersonal Skills) provides students with an understanding of the theoretical basis of psychology, a solid introduction to the theory and practice of counselling. Students develop critical and analytical thinking skills and data management skills and learn to be critical consumers and producers of research.
What does it take?
an interest in human behaviour
an interest in listening, analysing human behaviour, and developing interpersonal skills
logic, critical thinking skills, and excellent oral and written communication abilities
Students complete:
a work placement in the third year, providing hands-on industry experience and potential employment opportunities
a minimum of 12 courses in psychology (including compulsory courses)
3 core counselling courses
4 additional courses to develop interpersonal skills for working with individuals, groups, and communities
Prerequisite and knowledge courses for further study in psychology
Specialist psychology courses that students can choose from include:
Work and Organisational Psychology
Conservation Psychology
Cognitive Neuroscience
Advanced Research Methods
Language, Context and Social Behaviour
Students may also choose to undertake a part of the program at one of the overseas universities which the University of South Australia has an exchange program with.
Career Opportunities
Graduates often find jobs in:
youth work
advertising and marketing
policy and research
consumer research
counselling
industrial relations
human resources
program coordination
welfare.
Specific roles may include:
behavioural ecologist
community development officer
crime prevention officer
disability support officer
drug/alcohol case worker
human resources manager
psychologist (after further study)
training officer
welfare program coordinator
youth worker
Professional accreditation
This program is accredited by the Australian Psychology Accreditation Council. Graduates of the Bachelor of Psychological Science (Counselling and Interpersonal Skills) specialisation may also apply for Level 1 membership of the Australian Counselling Association.
Entry requirements include:
IELTS Total: 6
IELTS Reading: 6
IELTS Writing: 6
Start date for this program is Study Period 2 (beginning of the year) OR Study Period 5 (mid-year)
Honours
Based on academic merit, quota, and completion of prerequisite courses, graduates of this program may be eligible to apply for entry to the Bachelor of Psychology (Honours).