ARTIST TALK / ALEX MARTINIS ROE
Join Naarm/Melbourne-based artist Alex Martinis Roe as she discusses the works that comprise her exhibition, To Become Two with Samstag Associate Curator Joanna Kitto.
Friday 23 April
4—5pm
Samstag, Gallery 1

SYMPOSIUM / THREE CONVERSATIONS
Artists draw on historical collections in the creation of new work. In this series of conversations, artists, collection curators and historians come together to discuss cultural agency, the politics of display, colonial legacies, and generative pathways to repair.

James Nguyen & Victoria Pham with Stephen Zagala
Taloi Havini with Professor Nicholas Thomas
James Tylor with Dr Frances Wyld
THU 15 JULY / 10am—12pm (ACST) / A live Q&A with Samstag Curator Gillian Brown and the conversation participants on the topic and issues raised in their respective discussions.
Online
Click here to watch
WORKSHOP / POLITICS OF MEMORY
As part of the presentation of To Become Two, Alex Martinis Roe presents Politics of Memory, a workshop designed for students to examine the politics of storytelling in contemporary art practice and the effects of different kinds of historiographic methods across a range of media, including video installation, documentary film, archival display and sculptural memorial.
Artists engage in history making by questioning given formats and representational conventions, exposing their latent power and reworking them. The production of histories is intimately entwined with the generation of possible futures.
This workshop explores the political responsibility of artistic-historical narratives and their agency in transmitting and shaping the stories they tell.
Monday 12 July—Friday 23 July
Samstag &
SASA Gallery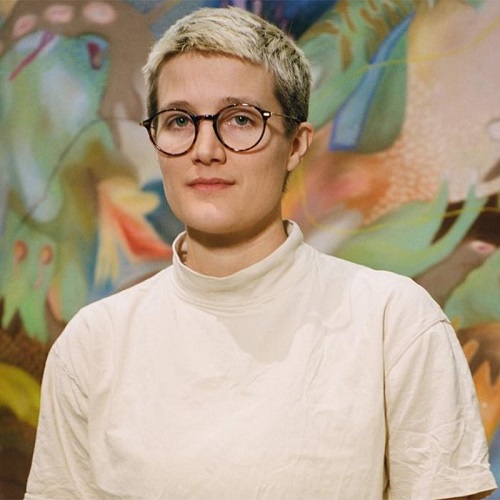 SCREENING + Q&A / MADISON BYCROFT
Preview the newly commissioned work BIOPIC or Charles Geneviève Louis Auguste André Timothée, the second Samstag, South Australian Film Corporation (SAFC) and SALA Festival commission, followed by conversation between artist Madison Bycroft and Samstag Curator Gillian Brown in which they discuss the complex process of production.
Thursday 5 August
5.30—6.30pm
Mercury Cinema