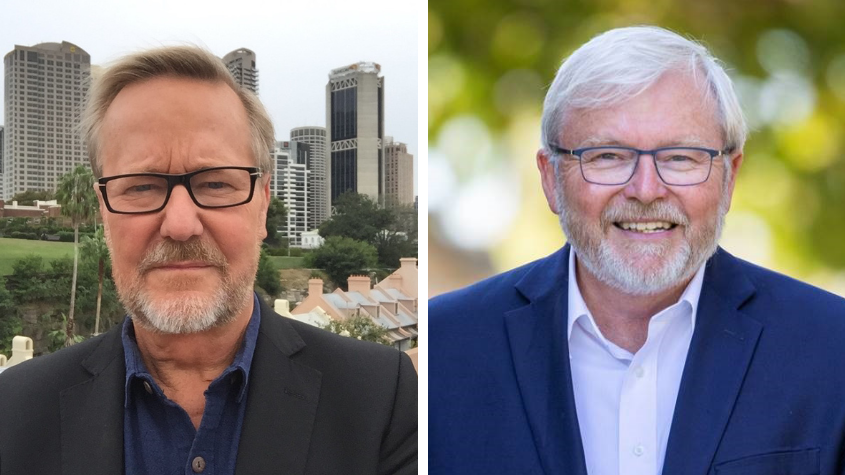 DISINFORMATION:
A TOXIC MIX OF MEDIA, POLITICS, AND VESTED INTERESTS

THE HON KEVIN RUDD AC
IN-CONVERSATION WITH QUENTIN DEMPSTER AM

THURSDAY 10 JUNE 2021, 6PM - 7.15PM, ACST

ONLINE EVENT
Presented by The Bob Hawke Prime Ministerial Centre and ABC Friends, SA/NT
Access a recording of this presentation HERE
The Bob Hawke Prime Ministerial Centre and ABC Friends (SA/NT) present an online discussion on the important topic of Disinformation.
Former Prime Minister The Hon Kevin Rudd AC, in conversation with Walkley award-winning journalist Quentin Dempster AM, will address key questions around disinformation and the ways it has been weaponised in our media to undermine Democracy.
The discussion will define the problem posed by disinformation in the context of a 24 hour news cycle in a click bait media world.
What is disinformation, how does it work, and who profits? Can media companies and Tech giants as publishers be held accountable for disinformation?
On the crucial question of public interest in a democracy, what can be done to ensure that the media better serves our democratic institutions?
This event will be presented online. Please register your interest so that we can keep you up-to-date. A link to this online event will be sent to registrants to view the broadcast. We encourage you to submit your questions when you register.
THE HONOURABLE KEVIN RUDD AC
PRESIDENT AND CEO, ASIA SOCIETY; PRESIDENT, ASIA SOCIETY POLICY INSTITUTE

Kevin Rudd became president and CEO of Asia Society in January 2021 and has been president of the Asia Society Policy Institute since January 2015. He served as Australia's 26th Prime Minister from 2007 to 2010, then as Foreign Minister from 2010 to 2012, before returning as Prime Minister in 2013.
As Prime Minister, Rudd led Australia's response during the Global Financial Crisis. Australia's fiscal response to the crisis was independently reviewed as the most effective stimulus strategy of all advanced economies. Australia was the only major advanced economy not to go into recession. Rudd is also internationally recognised as one of the founders of the G20 Summit, which drove the global response to the crisis and in 2009 helped prevent the crisis from spiralling into a second global depression.
As Prime Minister and Foreign Minister, Rudd was active in global and regional foreign policy leadership. He was a driving force in expanding the East Asia Summit (EAS) to include both the U.S. and Russia in 2010. He also initiated the concept of transforming the EAS into a wider Asia-Pacific community to help manage deep-rooted tensions in Asia by building over time the institutions and culture of common security in Asia. On climate change, Rudd ratified the Kyoto Protocol in 2007 and legislated in 2008 for a mandatory 20 percent renewable energy target for Australia. Rudd launched Australia's challenge in the International Court of Justice with the objective of stopping Japanese whaling in the Southern Ocean. Rudd drove Australia's successful bid for its current non-permanent seat on the United Nations Security Council and oversaw the near-doubling of Australia's foreign aid budget.
Rudd is Chair of the Board of the International Peace Institute. He is a member of the IMF Managing Director's External Advisory Group and the Global Leadership Council for Sanitation and Water for All. He is a Senior Fellow at Harvard University's John F. Kennedy School of Government, a Distinguished Fellow at Chatham House in London, a Distinguished Statesman with the Center for Strategic and International Studies in Washington DC, and a Distinguished Fellow at the Paulson Institute in Chicago. Rudd is a member of the Comprehensive Nuclear Test-Ban Treaty Organization's Group of Eminent Persons. He serves on the International Advisory Board of the Schwarzman Scholars program at Tsinghua University. Rudd is proficient in Mandarin Chinese. He remains actively engaged in indigenous reconciliation.
Twitter: @MrKRudd
linktr.ee/mrkrudd
The Guardian (video): Australian politicians 'frightened' of 'Murdoch media beast', says Kevin Rudd
The News Daily: Rudd blasts Murdoch media 'abuse of power' in fiery speech
QUENTIN DEMPSTER AM

JOURNALIST, BROADCASTER, AUTHOR
Quentin Dempster AM, is a journalist, broadcaster and author. He has worked in print journalism as Political Editor of The Telegraph, Brisbane, and as Political Editor, Presenter of the 7.30 Report for the ABC in Queensland and New South Wales. He headed an ABC-TV investigative unit in the 1990s and has covered for network TV both the Fitzgerald and Wood Royal Commissions in Queensland and NSW.
He famously once asked an incoming Queensland Premier: "What do you understand by the doctrine of the separation of powers?" after the Fitzgerald inquiry exposed widespread political and police corruption in that state. In 1986 he wrote and produced "The Sunshine System" an ABC documentary that revealed political interference in judicial appointments, electoral manipulation, politicisation of the police force, and a compliant press.
He is the author of three books: Honest Cops (1992); Whistleblowers (1997); and Death Struggle - How Political Malice and Boardroom Powerplays are Killing the ABC (2000). From 1992 to 1996 Quentin was staff-elected Director of the ABC and from that experience has become a committed advocate for the maintenance of adequately funded non-commercial public broadcasting in Australia. Quentin was Chair of the Walkley Foundation (2016 - 2019) which advocates for and recognises excellence in Australia journalism. Currently he is a contributing editor for The New Daily and a consultant to the Centre for Public Integrity.
Twitter: @QuentinDempster
Quentin Dempster, The New Daily, articles
Quentin Dempster, Crikey, articles



Presented by The Bob Hawke Prime Ministerial Centre and ABC Friends SA/NT
---
While the views presented by speakers within The Bob Hawke Prime Ministerial Centre public program are their own and are not necessarily those of either the University of South Australia, or The Bob Hawke Prime Ministerial Centre, they are presented in the interest of open debate and discussion in the community and reflect our themes of: Strengthening our Democracy - Valuing our Diversity - Building our Future. The Hawke Centre reserves the right to change their program at any time without notice.
The copying and reproduction of any transcripts within The Bob Hawke Prime Ministerial Centre public program is strictly forbidden without prior arrangements.