Perspectives: shaping the world through visual culture
Presented by The Bob Hawke Prime Ministerial Centre, ACE Open and Guildhouse
Hear from some of the leading cultural minds of our time in Perspectives, an annual initiative, inviting artists, makers and cultural thinkers to reflect on some of the most compelling and current topics in contemporary culture.

HANNAH PRESLEY
CURATOR/CONFIDANT
DATE TO BE ADVISED
ALLAN SCOTT AUDITORIUM
Hawke Building - UniSA City West Campus, 55 North Terrace, Adelaide, MAP
Click HERE to register your interest to attend this event and to be notified when a date is advised.
Melbourne based Aboriginal curator Hannah Presley presents her inter/national curatorial approach that has guided her through working with individual artists, community groups, not-for-profit galleries, international art Biennales and national institutions. Presley shares her belief in the central role of transparency, vulnerability and humour in forming valuable relationships with artists, and will examine the deeper values that inform her practice. Known for exhibitions and projects that present meaningful connections between people and place, Presley will examine the deeper values that inform her work and demonstrate how thoughtful communication can be a powerful practice.
HANNAH PRESLEY, CURATOR OF INDIGENOUS ART
NATIONAL GALLERY OF VICTORIA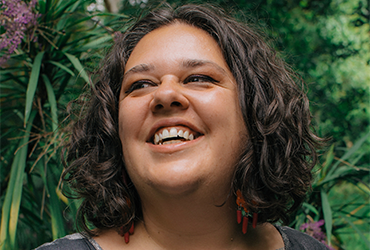 Hannah Presley is an Aboriginal curator based in Melbourne, she is currently curator of Indigenous art, National Gallery of Victoria. Presley was the inaugural Yalingwa curator at Australian Centre for Contemporary Art where she curated A Lightness of Spirit is the Measure of Happiness in 2018. In 2017, she was First Nations Assistant Curator for Tracey Moffatt at the 57th Venice Biennale, working alongside curator, Natalie King. Her practice focuses on the development of creative projects with Aboriginal artists, working closely with artists, learning about the techniques, history and community that inform their making to help guide her curatorial process.
Presley draws on inspiration from her early roles working at Warumpi Arts, with Papunya Community, Iltja Ntjarra, Many Hands and other Central Australian Art Centres. As Exhibitions Officer at Araluen Galleries, in Alice Springs, Presley had the privilege of coordinating a number of shows including the annual Desert Mob exhibition.
After attaining her Bachelor of Visual Arts, Photography, (LaTrobe), she completed a Curatorial Residency through Creative Victoria, curating the 2012 Victorian Indigenous Arts Awards. Presley has since worked in curatorial roles with the Koorie Heritage Trust, Footscray Community Arts Centre and Craft Victoria, also initiating and coordinating the Victorian Aboriginal Weaving Project across a number of years. Presley completed her Masters of Arts Management (RMIT), with distinction, in 2014.
Recent curatorial projects include Every Second Feels Like A Century, West Space, Melbourne (with Debbie Pryor); Weaving Country (with Vicki Couzens), Footscray Community Arts Centre, Melbourne (2017); Hero Worship, Craft, Melbourne (2016) (with Debbie Pryor). In 2016, Presley was awarded Best Emerging Curator at the Melbourne Fringe Festival.
More Information:
Hannah Presley: A Lightness of Spirit is the Measure of Happiness




Presented by The Bob Hawke Prime Ministerial Centre, ACE Open, Guildhouse

While the views presented by speakers within The Bob Hawke Prime Ministerial Centre public program are their own and are not necessarily those of either the University of South Australia, or The Bob Hawke Prime Ministerial Centre, they are presented in the interest of open debate and discussion in the community and reflect our themes of:
Strengthening our Democracy - Valuing our Diversity - Building our Future
.
The copying and reproduction of any transcripts within The Bob Hawke Prime Ministerial Centre public program is strictly forbidden without prior arrangements.