Corporate publications and annual reports
Enhance your understanding of UniSA's strengths and diversities with our range of publications designed for the media, industry, government and opinion leaders.
---
University of South Australia - Australia's university of enterprise
UniSA's corporate brochure, containing information about the University, its campuses, research, partnerships and more.
Download PDF version (9.3mb)
For copies please email Malcolm.Hamilton@unisa.edu.au
---
UniSA Enterprising Research Brochure

A publication showcasing our Research Vision and showing some of our many successes across the University.
Download PDF (1.1mb)
For hard copy contact (08) 8302 0963
---
University of South Australia 2019 Annual Review
A publication documenting the University's corporate performance for the year 2019.
Download PDF version (13.6mb)
For copies please email Susan.Lamont@unisa.edu.au
Previous years' reports Annual Reports and Financial Reports
---
Crossing the Horizon - Our Strategic Action Plan 2013 - 2018
Crossing the Horizon is an action plan for a university of enterprise.
Download PDF version (1.2mb)
---
101 things you might not know about UniSA
A compilation of 101 interesting facts, figures and stories about the University of South Australia.
Download PDF version (8mb)
---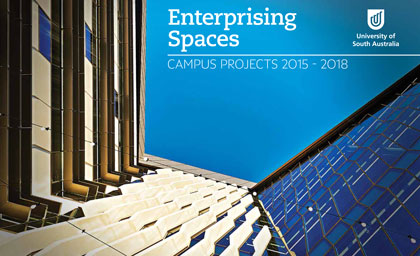 Enterprising Spaces: Campus Projects 2015 - 2018 Brochure
By 2018, UniSA will increase its engagement with local and global industries, enhance its current world-leading, relevant and informed research and produce more highly skilled and innovative graduates. This ambition is outlined in the University's long term strategic plan, Crossing the Horizon 2013-2018.
Our over $400 million campus blueprint encompasses this ambition – our approach to spaces and facilities is underpinned by our desire to create a community of ideas, solutions and connections and focuses on spaces that support new models of learning.
Download PDF version (1.5 Mb)
---
Our Whyalla Campus
UniSA has been part of the Whyalla community since the opening of the South Australian Institute of Technology in 1962. Built on a 22-hectare site in the heart of the city, the Whyalla Campus is now the largest regional university campus in the state and home to more than 60 academic and professional staff.
Download PDF version (2 Mb)
---
Our Mount Gambier Campus
UniSA established a regional campus in Mount Gambier in 2005. A decade later, we opened a new $12.5 million Learning Centre that increased the physical presence of the campus and provided state-of-the-art facilities for more students to access.
Download PDF version (2.6 Mb)