Innovative UniSA women in STEM making a difference
October 27 2016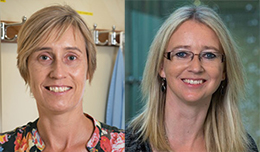 University of South Australia Vice Chancellor, Professor David Lloyd, is proud to have the innovative work of inspiring researchers Professor Allison Cowin and Associate Professor Claudine Bonder recognised with Winnovation Awards that showcase and celebrate the successes of female innovators who are changing the game in South Australia.
"It is terrific to have two such outstanding researchers acknowledged through the Winnovation Awards," Prof Lloyd says.
"Women in STEM are a formidable force and these awards are particularly important in showcasing the opportunities for women to forge careers that make a difference in these fields and improve the lives of millions of people."
Ground-breaking skin cancer researcher, Professor Allison Cowin, won the Winnovation Award for Science for her work developing a new patented antibody-based therapy for the disease.
"Australia has the highest rate of skin cancers in the world and developing new therapies for the treatment of these cancers requires considerable investment," Prof Cowin says.
"My innovation came after more than 20 years of research relating to the role of a specific protein called "Flightless" and while my research predominantly focusses on wound healing and tissue repair, I made the "outside the box" realisation that this protein could also have an important role in cancer formation, progression and metastasis.
"Three years of intensive in vitro and in vivo pre-clinical investigations, including collaborations with both national and international researchers in Melbourne and London culminated in the development of the patented antibody therapy that is ready for clinical translation and commercialisation.
"I hope that receiving this award will raise the profile of our work further so that we can fast-track our antibodies into human clinical trials."
Prof Allison Cowin, who is Professor of Regenerative Medicine at UniSA's Future Industries Institute and Assoc Prof Claudine Bonder, who is Head of the Vascular Biology and Cell Trafficking Laboratory at the Centre for Cancer Biology and the winner of the Winnovation Emerging Innovator Award, are both honoured to have the opportunity to contribute to the unprecedented discoveries being made by women around the world.
"Since 2009 I have led a research team at the Centre for Cancer Biology that investigates how blood vessels contribute to disease progression," Assoc Prof Bonder says.
"A particular area of interest for us is cardiovascular disease where blocked blood vessels are the leading cause of death from this disease and there are very few treatment options available.
"One of these options is metal stenting at the site of the blockage to mechanically increase and maintain the vessel diameter and last year more than 26,000 metal stents were deployed across Australia alone and globally the market for these devices is estimated to be $10B and growing with our ageing population.
"These implanted devices are often recognised by the body as foreign which can be deadly so in collaboration with vascular surgeons, biomaterial experts and the Cell Therapy Manufacturing CRC, my team developed a cross-disciplinary research program to overcome this.
"The potential of this project has attracted the attention of a multi-national device company Cook Medical and is patent pending and if successful, our technology will redefine vascular devices, overcome the current clinical hurdles of cardiovascular disease and save thousands of lives world-wide."
Media contact: Katrina McLachlan mobile: +61 414972537 email: katrina.mclachlan@unisa.edu.au