Defence and space SMEs to benefit from new industry Testlab
January 17 2019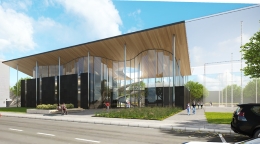 Local space and defence industries will receive a significant boost this year with the establishment of an Industry 4.0 Testlab at the University of South Australia's Mawson Lakes campus.
The approximately $2-million project includes an investment of $1 million from UniSA matched by up to $1 million from the Federal Government, and the Testlab will form part of a national network of six such institutions.
UniSA Vice Chancellor, Professor David Lloyd, says the Mawson Lakes campus, which is located adjacent to Technology Park and more than 80 defence, aerospace, electronics, engineering and ICT companies, is being transformed into a world-leading Industry Connections Hub with a strong emphasis on Industry 4.0 technologies.
Industry 4.0 – also known as the "fourth industrial revolution" – is the move towards computerisation of manufacturing and the Testlab will provide local SMEs and high-tech start-ups with otherwise-unattainable access to these smart factory technologies.
It will include rapid prototyping facilities and a digital platform for precision design and visualisation with the capacity to create a 'digital twin' of a product – a near-real-time digital image of a physical object or process that helps optimise performance.
"Our Testlab will be one of the most advanced industry collaboration facilities in the country, providing South Australia with a gateway to the future of manufacturing and reaffirming UniSA's position among the nation's leading Industry 4.0 institutions,'' Prof Lloyd says.
"Last year we secured a $450 million Industry 4.0 grant from Siemens and established a co-chaired Industry 4.0 research professorship in collaboration with the Brittany region in France; now we're launching a new test facility that will give local businesses hands-on access to the technologies that will shape the future of industry.
"As the global significance of Industry 4.0 technologies continues to increase, we're excited to be able to provide the best international and local expertise to South Australian enterprises.
"More than 90 per cent of SA's SMEs are family owned and employ fewer than 20 staff, producing small volume bespoke components, and for these businesses with niche market opportunities, digitisation of design, product innovation, and data acquisition throughout the production process can provide key advantages over their current practices."
A key area being rapidly transformed by Industry 4.0 is the supply chain of the defence and space industries, and Prof Lloyd says the new Testlab will specifically support the growing number of local SMEs involved in that sector.
"Given the State and Federal Governments' objective of building an internationally competitive defence and space industry and the significant investment in that area, the Testlab's focus will be on supporting SMEs in those supply chains," Prof Lloyd says.
The Testlab will be operational by mid-2019 and will be a key component in the larger Industry Connections Hub (ICH) being established at UniSA's Mawson Lakes campus.
"The Mawson Lakes campus is undergoing a series of transformations, including the introduction this year of new curriculums and facilities to support space and Industry 4.0 programs, along with the planned establishment of the Industry Connections Hub, which will integrate our work with Siemens and the TestLab and numerous other industry collaborations," Prof Lloyd says.
The Mawson Lakes location for the Testlab and the future ICH will leverage UniSA's industry connections with co-located operations such as Lockheed Martin, Saab Technologies Australia and, in particular, the Defence Teaming Centre (DTC).
"UniSA's strong relationship with the DTC will provide the Testlab with a direct link to local and interstate defence SMEs, allowing them to take immediate advantage of the Testlab in an open-access, non-competitive and highly supportive environment," Prof Lloyd says.
Once established, the Testlab will stimulate the transfer of Industry 4.0 technologies and expertise to other collaboration sites, and in announcing the current funding, Minister for Industry, Science and Technology, Karen Andrews, indicated further federal government investment in the area may follow.
………………………………………………………………………………………………………………………
Media: Dan Lander office: (08) 8302 0578 mobile:0416 760 162 email: dan.lander@unisa.edu.au
…………………………………………………………………………………………………………………………