As obesity climbs in Pacific nations, UniSA research probes the effectiveness of health through sport
January 21 2019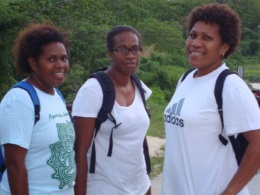 Around the globe, the incidence of obesity is steadily climbing at the same time as lifestyles become more sedentary and participation in physical activity declines.
The link between these trends and a rise in non-communicable diseases (NCDs) such as diabetes, heart disease, stroke and cancer, is well documented, but when it comes to turning the problem around, there are complexities.
Researcher with UniSA's Alliance for Research in Exercise, Nutrition and Activity (ARENA), Dr Katja Siefken says the intensity of the problem really hit home when in 2011 the Pacific Economics and Health Ministers declared their region to be in a state of emergency.
"The Pacific Island Forum reported that Pacific Island nations are at a real crisis point in the acceleration of NCDs," Dr Siefken says.
"American Samoa, Tokelau and Nauru have obesity rates from 93.5 per cent to 82.2 percent, diabetes rates are skyrocketing and some Pacific Island countries are predicted to experience among the greatest increases in the world in the prevalence of diabetes.
"This is a monumental crisis in the Pacific, but we are seeing similar trends in other low and middle-income countries around the world – countries where resources are highly restricted, where there is less infrastructure and lower awareness and education to combat the problem - it is in these countries where NCDs are on the rise and change is unlikely to occur without multi-disciplinary intervention."
Dr Siefken says the battle against the lifestyle factors that contribute to NCDs is not easy, but she believes sustained and relatively "simple" actions can turn the health of an individual or a community around.
She says countries are adopting national policies or action plans to increase physical activity levels to meet the WHO recommendations of at least 150 min of moderate-intensity physical activity, or at least 75 minutes of vigorous-intensity aerobic physical activity throughout the week, or a combination of both.
"This is a great first step, but it is just the starting point," Dr Nico Schulenkorf from the University of Technology Sydney says.
"Based on an assessment of social and cultural factors, our research in Vanuatu examined how we might enhance sport-for-development programs in low and middle-income countries to integrate a wider health message.
"Sport for development is defined as the intentional use of sport, physical activity and play to attain specific development objectives in low and middle-income countries and for disadvantaged communities in high-income settings."
Together, UniSA and UTS researchers have developed the Sport-for-Health Model (Schulenkorf & Siefken, 2018), a flexible tool that addresses key areas to create lifestyles changes - physical activity and health promotion, socio-cultural development, policy, and sustainability.
"Rolling out health advice is simply not enough," Dr Siefken says.
"Our research and our experience on the ground has shown that a holistic, integrated approach is more likely to create sustainable lifestyle changes.
"That means experts from different backgrounds and with different levels of influence must work together to achieve the goal of creating active, healthy and happy communities. Communities and their embedded sport clubs have a huge role to play in sport-for-health programs.
"From the hub of a sports club - people can get health and fitness advice that includes instruction and support to quit smoking, lose weight, be active, eat and drink more healthily, so the psychosocial elements of being a member of a community and/or sports club reinforce and incentivise the health messages."
The sport-for-health program Wokabaot Jalens researchers worked on in Vanuatu was successful in increasing participants' physical activity behaviour by 26.1 per cent, which resulted in improvements in some health indicators.
Most importantly, those individuals who needed to change the most, benefitted most and experienced a remarkable 229 per cent increase in physical activity levels.
The research suggests that the model can support sport for development initiatives - and specifically health-related development projects around the world.
"What stands out is that the new model has an explicit focus on healthy lifestyles - including regular physical activity and healthy diet - critical elements for community development in many low and middle-income countries," Dr Siefken says.
Full details on health parameters along with a full description of the program can be found here.
Media contact: Michèle Nardelli mobile 0418 823 673 email michele.nardelli@unisa.edu.au