Let's end the 'postcode lottery' when it comes to stroke
November 14 2018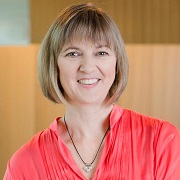 A University of South Australia-led project to help health professionals remotely diagnose and treat strokes could be a lifesaver – literally – for South Australians living in rural areas.
Each year, around 1000 people in rural and regional SA suffer a blocked artery or bleed, many of them fatal or causing serious disabilities due to delays in treatment because of distance from metropolitan health services.
Neuroscientist and Dean of Research in Health Sciences at UniSA, Professor Susan Hillier (pictured right), is chief investigator in a statewide project to help rural doctors and nurses to access tele-medicine support and stroke recognition tools to diagnose and treat people admitted with stroke.
"Stroke affects one in six people and costs Australia $5 billion a year," Professor Hillier says. "However, the dollar cost does not readily capture the burden of stroke. It kills more women than breast cancer and more men than prostate cancer, as well as leaving around 475,000 people (in 2017) with serious disabilities."
New treatments to minimise and even prevent stroke damage are being rolled out in metropolitan hospitals but their effectiveness is time dependent and rural patients are missing out, Prof Hillier says.
Clot-busting medication coupled with endovascular clot retrieval surgery (ECR) is now being offered at the Royal Adelaide Hospital, benefitting one in every two or three patients within 24 hours after stroke onset.
"With the advent of the 24-hour window of effectiveness, we need to review the treatment pathways for stroke across the whole of South Australia, regardless of where people live," Prof Hillier says.
Along with colleagues from the Royal Adelaide Hospital, University of Adelaide, Queen Elizabeth Hospital, SAHMRI and Country Health SA, Prof Hillier's chief aims are to:
Improve rural stroke data collection to better understand the inequities;
Work with SA Ambulance to deliver a stroke-specific screening tool;
Introduce new medical treatments in rural stroke centres;
Introduce tele-medicine emergency support for acute stroke patients when neurologists are not on site;
Develop a statewide emergency process to speed up treatments in patients with brain bleeding.
"Our aim is to end the 'postcode lottery' that currently determines stroke outcomes," she says.
Media contact: Professor Susan Hillier mobile 0419 034 578 email susan.hillier@unisa.edu.au
Candy Gibson mobile 0434 605 142 email mailto:candy.gibson@unisa.edu.au