Year 12s need more support to choose what to study at uni
May 01 2018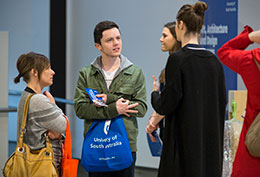 A study by all three South Australian universities has found Year 12 students need more individualised support to help them decide what to study at university.
Led by researchers at UniSA's School of Natural and Built Environments, the collaborative study - What Should I Study? Improving Tertiary Pathways by Improving Support for Prospective Students - found that while most Year 12 students had broadly explored educational options, many did not participate in activities that supported a more in-depth exploration.
Conducted as four interlinked studies, researchers examined the support interface between Year 12 students and government agencies, universities and secondary schools and how Year 12 students decide what to study at university.
Key researcher on the project, Andrea Parks says study choice is a complex decision with a distinct process that intersects significantly with career decision-making and higher education recruitment.
"The study has distinguished four key in-depth exploration tasks year 12 students need to carefully consider - program options, career connection, university fit, and preference position," Parks says.
"There is a lot of information available to year 12 students, so breaking the process into more manageable tasks could help students and their parents and supporters to process the breadth and volume of information available."
The research showed that during the core university recruitment period, students are at various stages in the decision-making process.
While 90 per cent of the year 12 students surveyed showed that they were actively engaged in the career-decision making process, many had not delved deeply into exploring their options.
Nearly all Year 12 students planning to attend university had applied or were planning to apply to SATAC by the September 30 deadline, even though 20 per cent were not certain of their study preferences.
"The research shows that students who undertook more in-depth exploration tasks were more certain about where and what they would study," Parks says.
"But we found that even those year 12 students who are very certain about their preferences may still need guidance to more carefully consider how realistic and personally suitable their choices are.
"That group could benefit by expanding a sometimes, limited scope of career possibilities and by challenging their assumptions and perceptions.
"And those year 12 students who are undecided or less certain about their career future would benefit from more guidance and support to narrow down the broad range of options or to decide between several options."
One of six key recommendations made by the research team is a review of the effectiveness of the September 30 Early Closing Date for applications.
"Updating application deadlines could give students, schools and universities more time to engage in a meaningful study choice process," Parks says.
The Report findings also suggest that Australia's unique single-offer preference system adds an element of speculation to application and admission processes which has an impact on the choice.
The Report questions the prominence attached to positioning preferences to elicit a desirable first round offer.
"The need to secure an offer in the first round can overshadow more important aspects of the process and often a truly suitable study choice can take a backseat to the quest for an offer," Parks says.
The Report recommends a collaborative system for sharing generic information and learning resources for study choice to consolidate relationships and build capacity in schools and universities and enhance access to support.
It noted that the relationships between schools and universities are vital to the delivery of study choice support and that more focused staffing in both sectors would ensure consistent and equalised access to individual support for Year 12 students.
The Report also suggests structured learning experiences to engage students in specific study choice tasks could be used to expand and complement existing resources and activities.
Support for this project has been provided by the Australian Government Department of Education and Training. The views in this project do not necessarily reflect the views of the Australian Government Department of Education and Training.
Led by UniSA, project team members included Professor Julie Mills (UniSA Project Lead), Associate Professor Delene Weber (UniSA), Professor Martin Westwell (SACE Board), Professor Karin Barovich (Adelaide), and Andrea Parks (UniSA Project Manager).
Project reports, products and publications can be found at whatshouldistudy.com.au.
Media contact: Michèle Nardelli mobile 0418 823 673 email michele.nardelli@unisa.edu.au