UniSA employs hi-tech research to boost state's timber industry
May 11 2018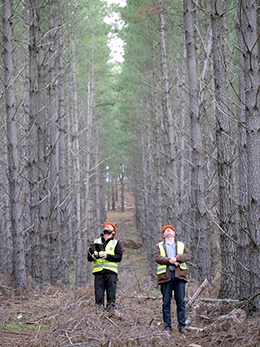 A new research collaboration between the University of South Australia, State Government and the forestry industry is expected to provide significant gains for Mount Gambier's $1.2 billion timber industry.
Under an agreement launched today (Friday, May 11), Forestry Research Mount Gambier (FoRMtG) will undertake research activities related to timber production in the state's south east, employing the most sophisticated technology in the world.
Two UniSA researchers already playing a key role in this area include Professor Anthony Finn and Dr Stefan Peters.
Professor Finn, an expert in autonomous systems, is using drones with imaging software to scan small sections of forests in the region, generating 3D data.
Using a combination of imaging sensors – LiDAR, thermal imaging and hyperspectral imaging – Professor Finn's team is capturing detailed information about individual trees within the radiata pine forests.
"The aim of the project is to create a tool that more efficiently maps forests, allowing users to visualise the properties and structure of individual trees. We can then assess the quantity and quality of the trees prior to felling," Prof Finn says.
His colleague, geospatial scientist Stefan Peters, is analysing this and multi-temporal LiDAR data, extrapolating information on tree growth to help predict timber yields.
The remote sensing will allow both ground data and airborne data to accurately predict wood volumes, considering the impact of fires, insect damage and wind damage on the yields.
"The traditional approach has been to predict timber yields based solely on ground data," Dr Peters says.
"Now, by scanning the forests from airplanes and drones, we can get a lot more information about how the forests have changed and how that will affect timber yields."
The researchers expect significant cost savings because less manual ground work will need to be done and costly aeroplanes can be replaced with drones to capture data.
As the forest matures, canopy changes can be related to soil types, fertiliser application and soil moisture to predict forest volumes. This information can then be projected through time to estimate forest yields.
The research will lead to more cost-effective and data rich systems for the forestry industry, according to Dr Jim O'Hehir, UniSA's General Manager of Forestry Research.
"The forestry industry has been using LiDAR to predict forest volumes for the past decade but what is new is the ability to predict volume changes from sensed metrics directly rather than from traditional growth and yield models," he says.
Researchers plan to work with a much bigger data set in future, allowing them to model changes in more detail, incorporating thinning events and other disturbances that impact on forest growth and yield.
Media contact: Michele Nardelli mobile 0418 823 673 email mailto:michele.nardelli@unisa.edu.au