UniSA appoints new University Council members
January 30 2018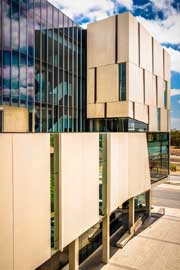 Barrister Michael Abbott AO QC; chairman and co-founder of Nova Systems, Jim Whalley; and social sciences and governance specialist, Mary Patetsos, are among the latest appointments to the University of South Australia's governing council.
Michael Abbott is a barrister of the Supreme Court of South Australia and was appointed as Queen's Counsel in South Australia in 1984. He is chair of both South Australia's Legal Services Commission and the Adelaide Festival Centre Trust.
An avid collector of South East Asian and Indian art, he is a major donor to art galleries and museums throughout Australia over the past 20 years, including donations of almost 1000 objects to the Art Gallery of South Australia. He was awarded an Officer of the Order Of Australia for his services to the law, the arts and international relations.
Jim Whalley is chairman and co-founder of Nova Systems, one of Australia's largest suppliers of engineering and technology support services to aerospace, defence, communications, transport, energy and resources.
A former air force fighter pilot and test pilot, Jim is a graduate of the Harvard Business School OPM Executive Education Program and holds a Master of Business Administration and a Bachelor of Science among other professional qualifications.
Qualified in social work and psychology, Mary Patetsos has made a huge contribution to governance in South Australia in and array of fields.
She is chairperson of the South Australian Housing Trust Board, the SA Local Government Grants Commission and Port Adelaide Football Club-Power Community Limited, and deputy chair of the Aged Care Housing (ACH) Group and SA Health's Health Performance Council.
Other new members include staff representatives, Deputy Director of Student Engagement, Karen Hunt, and Associate Head of School: Academic in the School of Psychology, Social Work and Social Policy, Associate Professor Deirdre Tedmanson.
The two new student representatives are aviation student Jordan Mumford and PhD candidate in the Centre for Cognitive and Systems Neuroscience, Kate Riggall.
Announcing the new appointments, University Chancellor and Chair of the UniSA Council Jim McDowell says he is delighted to welcome new members who have exceptional and broad expertise across a range of sectors, but also who have experience in governance in both the the private sector and Government.
"We are exceptionally lucky to welcome people who have had extremely successful careers and very wide experience of business in the profit and not-for-profit sectors and of law and government," McDowell says.
"I know all the new members of Council, including staff and student representatives, will bring skills, expertise and dedication to their roles to support the University as it grows its reputation locally and internationally as Australia's University of Enterprise."
Media contact: Michèle Nardelli mobile 0418 823 673 email michele.nardelli@unisa.edu.au