UniSA and France join forces to advance Industry of the Future
October 20 2018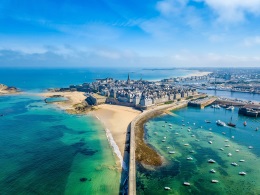 As part of the Premier of South Australia, Steven Marshall's visit to France this month, the creation of a new co-Chair Professorship known as the Brittany Region/UniSA Professor of Industry of the Future will be announced - a joint academic appointment between UniSA and French academic partners, funded by UniSA and the Brittany Region.
The Professor of Industry of the Future position will be the focus of a range of research collaborations between UniSA and institutions in the Brittany Region, including four new projects awarded funding this month under the State Government's South Australia-Brittany Research Collaboration Grant.
Industry of the Future, or Industry 4.0, as it is often called in Australia, has been dubbed the 'Fourth Industrial Revolution', referring to the creation of 'smart factories' through the use of automation technologies such as cyber-physical systems, the Internet of Things and cognitive computing.
"Industry 4.0 is a concept of critical importance to Australia but there is a need to develop far greater educational and research expertise in the field than currently exists in this country," UniSA Vice-Chancellor, Professor David Lloyd says.
The joint Professorship represents an opportunity to adapt European Industry 4.0 expertise to the Australian industrial landscape, while simultaneously strengthening Brittany-Australia relations and showcasing the Brittany region's education and research capabilities.
"I am certain this initiative will be an important step in developing industry-focused research and educational cooperation between France and Australia," Prof Lloyd says.
"It will be instrumental in putting Brittany and South Australia at the centre of Industry 4.0 knowledge creation."
With French-Australian collaboration important to a broad range of industries, including maritime defence, the new Professor of Future Industry will spend half their year in Brittany with UniSA academic partners IMT Atlantique and the University of South Brittany, and half in Adelaide, fostering staff and student exchange and driving innovation interchange between industry and academia in both countries.
Premier Steven Marshall will also announce the award of grants funded through the South Australia-Brittany Research Collaboration Grant, established by the South Australia State Government, including two for Industry 4.0 projects.
The first of these projects, the Roadmap for a Human Factor and Human-System Integration Consortium, will be led by UniSA's Associate Professor Siobhan Banks, and seeks to create a collaborative approach to human factors research in the naval industry.
Prof Banks has fostered strong ties with Brittany over the past 18 months, and the consortium will take an existing project to the next stage, bringing together academics from UniSA, IMT Atlantique and the University of South Brittany with key figures from industry, including Naval Group.
In a second project, three UniSA researchers, led by Professor David Cropley, will travel to Brittany to expand an existing suite of teaching and research activities with the Paris-based Superior National School of Advanced Techniques (ENSTA) and IMT Atlantique.
This project aims to improve education around key skills in engineering and other STEM disciplines central to Industry 4.0, and will also seek to establish a PhD scholarship to support a student who will spend two years based at ENSTA and their middle year of study at UniSA.
Outside these Industry 4.0 projects, the South Australia-Brittany Research Collaboration Grant also awarded funding to two other UniSA initiatives that will expand existing relationships and establish new research opportunities.
Dr Moein Kashani, a fluidics simulation expert, will travel to Brittany in February 2019 to arrange a program of staff exchange and research collaboration between UniSA and Institute de Recherche Dupuy de Lôme at the University of South Brittany.
A further grant will facilitate a symposium at UniSA in January 2019, in which Rennes-based Cherry Biotech – a developer of health instrumentation with a strong R&D program – will discuss cutting-edge techniques in radiobiological and immunotherapy studies alongside researchers from UniSA and the Harvard University Dana Farber Cancer Institute.
Following this symposium, two UniSA researchers will visit the Cherry Biotech labs to assist in developing bioengineered organ-on-a-chip models for radiobiological studies.
"With such clear benefits in both directions resulting from working together, we're expecting many more joint ventures between UniSA and the Brittany region over the coming years," Prof Lloyd says.
…………………………………………………………………………………………………………………………

Media: Dan Lander office (08) 8302 0578 | email: dan.lander@unisa.edu.au
…………………………………………………………………………………………………………………………