Tanya Monro - a built-in role model at Parkside Primary
October 22 2018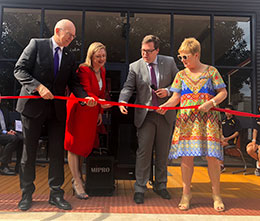 One of the state's earliest primary schools, Parkside primary, will continue its tradition of naming new buildings after local role models, when it launches its new Monro building for Science, Technology, Engineering and Maths.
The Monro Building has been named in honor of award-winning Australian physicist and Deputy Vice Chancellor: Research and Innovation at UniSA, Professor Tanya Monro, and was launched today.
Parkside primary school deputy principal, Adrianna Kyriacou says the process to choose a name for the new STEM building was one that engaged all the year 6 and 7 students.
"We challenged them to write a submission about who they believed we should name the building for and why, and Tanya's career example was selected as the most closely associated with our vision for STEM at Parkside," Kyriacou says.
"Its been a great process and we are really delighted with the outcome.
"Not only is she a talented and gifted scientist, she is also a role model for all Australian girls, a champion for STEM education more broadly, and a wonderful science communicator.
"Part of what we are encouraging at Parkside Primary is a cross-curricular approach to learning in STEM with a strong focus on collaboration and tackling real-world problems and I know that is an approach Tanya has taken in her own career."
The new Monro Building will serve the 400+ student community as four classrooms with a central STEM hub of flexible design, to cater for a range of changing configurations to suit science and technology activities. The building is home to all the school's robotics and includes 3D printing facilities. Aspirations for future additions to the space, include a green screen and audio-visual learning pod.
Prof Monro says she was surprised and delighted by the news.
"What an extraordinary honour," she says.
"It is touching to hear that students at such a formative age have researched my career and found it inspiring. I am passionate about STEM and about encouraging more children to understand the career potential and power that comes from studying these subjects.
"I think it is clear that the leadership at Parkside primary school is putting enormous thought and effort into giving their students every chance to seize the opportunities STEM can bring for their future."
Media contacts: Parkside primary school: Adrianna Kyriacou tel 08 8271 2437
UniSA: Michèle Nardelli mobile 0418 823 673