SA university innovation to give back control to people living with disability
February 01 2018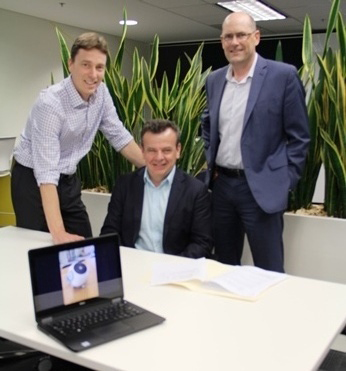 A wireless hand controller designed in collaboration by researchers, students and experts from the University of South Australia, Flinders University and the Women's and Children's Hospital to give people with a range of conditions from cerebral palsy to arthritis more control, is about to be commercialised.
The i-boll has been licensed in an agreement with Novita and will be a flagship technology for the not -for-profit organisation's assistive technology division.
As well as being a disability services provider, Novita specialises in assistive technology equipment and devices designed to improve the life of people living with disability by helping them with their mobility, communication, education and daily living needs.
Designed in a collaboration that includes biomedical engineers, industrial designers, neuroscientists, paediatricians, physiotherapists and rehabilitation experts, lead researcher from Flinders University, David Hobbs, says the i-boll has both practical and therapeutic applications.
"Easier to use than conventional controllers, the i-boll connects with most mobile smart devices that users are already familiar with, making it both highly accessible and cost effective," Mr Hobbs says.
"Intuitive in design, the novel device can be customised to suit a users' specific hand impairment such as arthritis, stroke or cerebral palsy."
With an eye on compatibility and future mobile developments, the designers have built in technological longevity, so the i-boll will interface with future versions of mobile devices.
Now in a final phase of consumer testing in association with a local aged care provider and industry partner, Helping Hand, the i-boll is expected to be in production by early 2019.
Leading the commercialisation of i-boll, UniSA Ventures, Dr Stephen Rodda says the leading edge technology is a strong example of how local universities and industries can collaborate to benefit society and the local economy.
"This has been an extremely productive research and development collaboration and we look forward to Novita delivering the i-boll to market," Dr Rodda says.
Novita's General Manager of Assistive Technology, Mark Stewart says the organisation is excited to bring the innovative i-boll to market globally.
"i-boll has the potential to really change millions of people's lives worldwide and our goal is to continue to innovate to do just that," he says.
The research team that developed the i-boll includes David Hobbs and Professor Karen Reynolds, Flinders University, Associate Professor Sandy Walker, Flinders University/UniSA; Associate Professor Susan Hillier, UniSA; and Associate Professor Ray Russo, the Women and Children's Hospital.
Media contact: Michèle Nardelli mobile 0418 823 673 email michele.nardelli@unisa.edu.au
Visit the UniSA Media Centre - Follow us on @UniSAnewsroom