QantasLink partnership offers new flight path for UniSA aviation grads
August 13 2018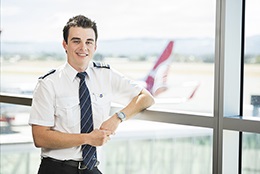 Today the University of South Australia and QantasLink will sign up to a partnership that ensures the University's brightest and best aviation students have access to special industry based additional training provided by one of the world's leading airlines.
The partnership agreement will be signed at 10.30 am (Monday August 13) at UniSA's Jeffrey Smart building, Hindley Street.
As Australia's longest running aviation degree program, UniSA's Bachelor of Aviation has been a huge success, graduating both pilots and aviation management professionals now employed across Australian and around the world.
Head of the program, Dr Doug Drury says the collaboration with Qantas will bring about important benefits for students and the aviation industry.
"Latest industry reports show we are entering an era of very high demand for quality pilots," Dr Drury says.
"Across the next 20 years the demand globally will exceed 640,000 pilots.
"Our MOU with QantasLink ensures that on top of the excellent education and training offered here at UniSA, the best performing students will have the opportunity to access a path into the Qantas Group, adding to their education with direct experience across its regional network in Australia."
UniSA Vice Chancellor Professor David Lloyd says the MOU is another example of how connecting with industry has important benefits for students.
"Collaborations such as this one with Qantas are invaluable for our students because they underpin deeper engagement with industry and present real opportunities for them to understand what they are learning in the context of how they will apply that in their working world," Prof Lloyd says.
"They also reflect a confidence and respect for the education we provide and give us the opportunity to keep adapting our curriculum to meet the dynamic needs of industries such as aviation."
QantasLink Chief Pilot Adrian Young says the Qantas Group Future Pilot Program is about building the next generation of exceptional pilots from within Australia's top aviation schools and in return providing students with benefits and placement certainty.
"As the national carrier we have a history of attracting the best and brightest to fly for us," Captain Young says.
"The students chosen for this program will have an enormous head start to their career as a pilot.
"They will benefit from a direct pathway to Australia's largest regional airline and access to our experienced pilots throughout their studies.
"By offering the program at UniSA, we'll be able to arm more high-performing motivated students with the skills needed to transition into an airline and provide them with a platform from which to launch their career as a pilot within the Qantas Group."
Media contact: Michèle Nardelli mobile 0418 823 673 email michele.nardelli@unisa.edu.au