New research to get medicines right for older Australians
May 08 2018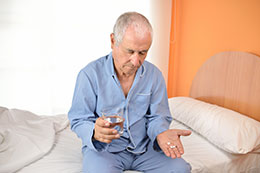 The University of South Australia has been awarded $2.58 million to undertake a randomised controlled trial across South Australia and Tasmania to assess what works best in ensuring older Australians are not being harmed by their prescribed medicines.
The grant was announced today by Minister Hunt at the Australian Pharmacy Professional conference and will address medicines-induced deterioration in the health of older people – often misattributed as simply symptoms of old age.
Led by UniSA's Professor Libby Roughead, the trial - Reducing Medicine Induced Deterioration and Adverse Reactions (ReMinder) - will focus on providing pharmacists with a suite of validated tools to help them spot the signs of deterioration associated with the inappropriate use of medicines.
Prof Roughead says the research will make an important contribution to a growing population of older Australians who need to take medications for a range of conditions.
"It is all too easy to put certain symptoms down to ageing, without considering what else might be going on for a person," Prof Roughead says.
"Pharmacists are some of the best qualified people to know the full range of side effects of medications and too, how some dosages or drugs should not be prescribed together, and the range of symptoms that result.
"In our research we will be asking pharmacists to use a range of tools such as changes in cognition, in movement behaviour over 24 hours, changes in sleep, as well as grip strength as indicators of medicines-induced deterioration.
"They will assess the potential for adverse medicine events through a review of the resident care assessment records and through patient or carer-reported changes in health, from the time a medicine regimen was changed."
Prof Roughead says the research will focus on a comparison between the pharmacist service and the usual care provided to 500 patients in aged-care facilities in South Australia and Tasmania.
"Our core goal is to discover a method to reduce medication-induced deterioration, as measured by change in older people's frailty score," she says.
"We also want to measure the incidence of adverse events and get an idea of how much these avoidable problems add to the nation's healthcare costs.
"If we can make system-wide improvements in how we administer and monitor the use of medicines for older people, I think we will find a way to substantially reduce costs and at the same time improve the health and well-being of older Australians."
Media contact: Michèle Nardelli mobile 0418 823 673 email michele.nardelli@unisa.edu.au
Visit the UniSA Media Centre - Follow us on @UniSAnewsroom