Millennials up for online tech-friendly residential property investments
April 20 2018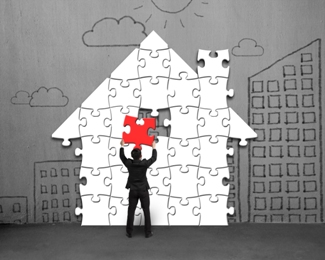 As the costs of Australia's housing market continue to rise, Millennials are increasingly using online tech-friendly fractional property investment platforms to invest in residential property, according to a new University of South Australia report released today.
Conducted in partnership with BRICKX, the Fractional Investment in Residential Property in Australia report examines the characteristics of property investors, identifying male millennials as a primary market for online fractional residential investments.
Unlike existing investment models, online fractional residential property investments do not require upfront capital, stamp duty or transfer fees, just a small administrative fee attached to the investment. Instead, intermediaries like BRICKX buy properties, split them into equal fractions—or bricks—then offer brick purchase to investors. Investors earn returns from monthly rental distribution and capital growth.
The report shows that the typical online fractional property investor in Australia is male (75 per cent); mostly younger investors (44 per cent of respondents aged 18-34 years, and 37 per cent aged 25-34 years); 37 per cent with an undergraduate degree, and 64 per cent earing an annual income between $50,000 and $150,000.
Lead researcher, Dr Braam Lowies says the nature of fractional online investment opens doors to younger property investors.
"Technological advances have created new investment opportunities in the online environment, many of which naturally appeal to the younger generation," Dr Lowies says.
"Millennials have grown up with technology at their fingertips.
"Online fractional property investments offer quick and easy investment options, and with outlays of as little as $100 dollars, it's not surprising that investors are skewed to younger Australians.
"But perhaps the most interesting thing we found was that these investors were choosing online fractional property platforms as a substitute saving vehicle and not, as some have reported, as a vehicle to enter the property market at a later stage."
"Fractional property investment challenges the traditional concept of investing in residential property, letting people buy 'brick-by-brick', and enabling them to enjoy the benefits of property investment without the exorbitant upfront capital and deposit."
Dr Lowies says the new Fractional Investment in Residential Property in Australia report offers important market knowledge for the financial services industry.
"Online fractional residential property investment is very new to Australia," Dr Lowies says.
"Investigating the motivations and demographics of the primary audience is key in understanding how such online platforms operate in a highly competitive industry.
The complete Fractional Investment in Residential Property in Australia report and statistics are available to view here: unisabusinessschool.edu.au/research/CAFE/media
…………………………………………………………………………………………………………………………
Contact for interview: Dr Braam Lowies office (08) 8302 7507 email: Braam.Lowies@unisa.edu.au
Media contact: Annabel Mansfield office (08) 8302 0351 mobile: 0417 717 504
email Annabel.Mansfield@unisa.edu.au