UniSA honours the State's 'most connected expat' in London
April 18 2018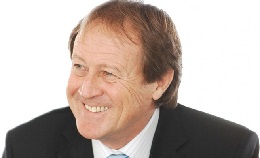 He's been called the 'best-connected expat in London' but this week the Agent General for South Australia, Bill Muirhead AM, is being feted on his home soil instead.
The Adelaide-born advertising executive and champion of all things South Australian will be awarded an honorary doctorate today by the University of South Australia for his services to the State.
His decade-long commitment to promoting South Australia – drawing on his unique advertising talents and huge network of contacts – has paid handsomely for the State since his appointment as Agent General in 2007.
The High Commissioner to London, Alexander Downer – another South Australian – once joked that Muirhead's influence meant "South Australia was performing better in London than in its own backyard".
A founding director of renowned British advertising agency M&C Saatchi, Muirhead has lived in the UK longer than his birth country but his South Australian roots run deep – both sides of his family settled in SA in the 1800s.
He moved to London with his family as a teenager, returning to Australia after finishing school and starting work in advertising before heading back to the UK capital where his career flourished.
A partnership with Maurice and Charles Saatchi proved life-changing, notably when the agency won the Conservative Party account in 1978 and led to Margaret Thatcher's landslide victory a year later.
Muirhead's talent for political advertising also helped the Conservatives win government in 1992 and again in 2015.
In 2011, Muirhead set up the South Australia Club in London as a networking forum to help promote the State's exporters and encourage foreign investment. The club has since expanded to 200 members with new chapters launched in Shanghai and Hong Kong in 2015 and an Adelaide chapter added in 2016.
Professor David Lloyd, UniSA's Vice-Chancellor and President, says Muirhead has made "an enormous contribution" to South Australia in the past decade.
"His valuable connections and promotion of the State as a destination of choice for foreign investment, migration, study and tourism shouldn't be underestimated. He's an unparalleled champion for all things South Australian," Professor Lloyd says.
Bill Muirhead will also deliver the occasional address at today's graduation ceremony in Pridham Hall.
Media contact: Candy Gibson mobile 0434 605 142 email mailto:candy.gibson@unisa.edu.au