UniSA's creative revival as new tech-arts fuel industries and innovation
June 25 2018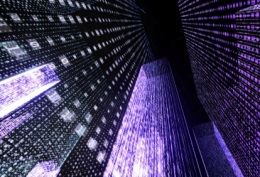 As South Australia continues to grow its base in major creative enterprises and start-ups, the School of Creative Industries will be a front-runner in creative education - offering unique industry experiences and educating the next generation of creative talent.
Incorporating the cultural industries (including the galleries, libraries and museums (GLAM) sector) and the creative economy, the School of Creative Industries brings together arts, film, television, music, visual effects, performing arts, publishing, research and development, radio, journalism, public relations, games, software, and general artistic expression.
Employing one per cent of the world's working population – a staggering 29.5 million jobs globally, creative industries are driving employment and contributing to economic growth locally and globally.
Leveraging the creativity boom, the School of Creative Industries is offering studies at the cutting-edge of creative thinking and drawing connections between creativity, the arts, technology, and business.
The School of Creative Industries is possibly South Australia's most connected university faculty with established partnerships with some of Australia's most prominent and influential creative organisations, including Rising Sun Pictures, Matchbox Pictures, Kojo, Channel 44, South Australian Film Corporation, Mighty Kingdom and ABC iView.
Head of UniSA's School of Creative Industries, Professor Jason Bainbridge says the University's diverse industry partnerships offer students invaluable opportunities and access to industry experience as part of their studies.
"We are adopting an exciting way of educating future creative leaders and thinkers through co-creation with new collaborators and partners," Prof Bainbridge says.
"Our students are able to study and learn in professional industry environments, learning from the best in the business under the mentorship of global leaders in industry.
"This kind of experience and exposure is so critical in the career progression of our students.
"Our experience shows that the placements act as a talent pipeline for industry as well with many students being offered great paid employment, in the fields they love, while they are still studying.
"We're excited to launch the new school and our refreshed approach at an event for our industry partners as co-creators as of a real revival in the creative industries.
"We are also excited to welcome a new arrival to South Australia, global film, television and virtual effects giant, Technicolor, as one of our industry collaborators.
"As automation and digital communications shape the way all industries 'live' in the world, the demand for creative thinkers and architects of great communications, entertainment and ideas has entered an era of huge growth.
"We want to be leaders in delivering work-ready graduates and innovators to meet that demand."
WHEN: The launch of the new school will be held on Tuesday 26 June 2018 from 4:00pm - 6:00pm
WHERE: UniSA's Pridham Hall City West Campus, Hindley Street, Adelaide
Media contact: Michèle Nardelli mobile 0418 823 673 email michele.nardelli@unisa.edu.au