Adelaide and UniSA chancellors call for submissions as merger Discussion Paper released
August 09 2018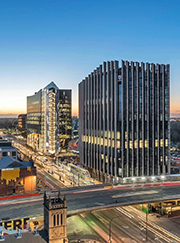 The University of South Australia and the University of Adelaide have today called for submissions following the release of a public discussion paper on the merits of a potential merger of the two leading institutions to create a new university for the State.
Chancellors Jim McDowell (UniSA) and Rear-Admiral Kevin Scarce (Adelaide) said they believed this was a rare opportunity for the community, business and industry to contribute to the conversation.
"The discussions we are having about the merits of the creation of a new university touch on a range of significant factors for the State and the nation. These include how we provide the best possible educational experience for our students, how we compete on an international stage, support skills and knowledge development for South Australia and respond to the challenges of future industries in advanced manufacturing, the environment, education, health, defence and more.
"Staff, students, alumni, and business, industry and government stakeholders can now access the Discussion Paper and respond to the questions we have posed. This is the key opportunity to contribute to such an important conversation for South Australia and we really hope people will take part."
The Discussion Paper, which has been commissioned by the Universities and prepared by consultancy group NOUS, provides the context for the merger discussion, background data on the contribution both universities make to the economic, cultural and social fabric of South Australia and canvasses a range of considerations for the creation of a new university.
The Discussion Paper is now available for viewing and download at a website hosted by NOUS and submissions can be lodged on this site.
The final date for submissions, which will inform the preparation of a final report for the two university Councils to consider in December, is September 21, 2018.
Facts and Figures:
University of Adelaide
Founded: 1874
Students: 27,000
Staff: 3800
Total revenue: $947 million
Campuses: three (North Terrace, Waite, Roseworthy)
University of South Australia
Founded: 1991
Students: 37,000
Staff: 3000
Total revenue: $610 million
Campuses: six (City East, City West, Magill, Mawson Lakes, Whyalla, Mount Gambier)
Media contacts:
Simon Hatcher
Hughes PR, Mobile: +61 (0)419 780 071, simon@hughespr.com.au
Mark Williams
Hughes PR, Mobile: +61 (0)401 147 558, mark@hughespr.com.au