Venture Catalyst winner launches online mental health tool to change negative life patterns
September 13 2018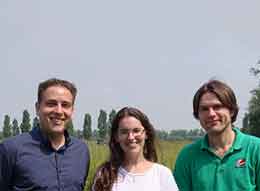 A $50,000 grant from UniSA's Venture Catalyst program has helped to create an online mental health tool to support schema therapy clients and therapists.
Adelaide startup Secure Nest have built the platform thanks to the Innovation & Collaboration Centre's (ICC) program, which provides financial assistance and support to entrepreneurs to turn their business ideas into reality.
The husband and wife team, clinical psychologist and UniSA graduate Sally Skewes and IT specialist Joseph Skewes, say the online platform empowers people struggling with various issues to change negative life patterns.
Schema therapy helps identify emotional triggers and resulting behavioural patterns. It is particularly useful for those who have tried other methods which have been largely unsuccessful.
Co-Founder Sally Skewes says the platform can be used by both therapists and clients.
"We really wanted a place where clients can go to access therapy tools, even between sessions, to enhance their therapy experience, as well as provide an online framework for schema therapists," she says.
"Secure Nest can be used to support individual schema therapy, group schema therapy and as a self-help tool.
"The platform was designed for those who are interested in understanding what drives emotional, thinking and behavioural patterns, and how these patterns can be changed.
"With schema therapy in high demand, the waiting period can be up to 12 months. Because our program can be used straight away by clients who are waiting to be treated, it can reduce the learning curve when therapy begins," Sally says.
The self-education program is accessible to anyone wanting to learn about schema therapy and how it can benefit them.
"It's through experiences like the self-education program that people can learn to make changes in their lives and relationships," Sally says.
Renowned schema therapist and field innovator, Michiel van Vreeswijk (the Netherlands), approached Secure Nest in 2017, and later joined the company as an advisor.
Mr van Vreeswijk says the platform finally provides a safe space for therapists and clients.
"Now group schema therapists can offer their clients a safe and creative platform, encouraging contact with each other and working together on changing negative behavioural patterns."
The entrepreneurs encourage other startups looking for venture funding to apply for the next round of the ICC program, when applications open in November 2018.
"The Venture Catalyst program has allowed us to progress our idea from an early stage project to a working prototype that we've recently piloted in South Australia and Europe," Joseph says.
Even if they hadn't secured the funding, Joseph believes the application process was vital to developing their business and platform.
"It helped us refine our offering and learn how to market it. We're still using the Business Model Canvas from a workshop 12 months ago and pitching to a live panel helped us identify areas for improvement.
"We highly recommend the program to anyone who is looking for help to progress an idea into a viable new business."
The Venture Catalyst program model was changed in 2017 to support a larger cohort of would-be-founders to the process of starting a global startup in Adelaide.
The new six-month program includes workshops, one-on-one mentoring, workspace, a stipend and the chance to pitch for a fully-funded overseas tour.
The open Venture Catalyst program will be taking applications in November 2018 for the program beginning in March 2019 via icc.unisa.edu.au
Media contact: Georgia Minarelli email Georgia.Minarelli@unisa.edu.au mobile: 0413 314 726
www.icc.unisa.edu.au