Santos supports UCL and UniSA to advance women in future industries research
May 09 2017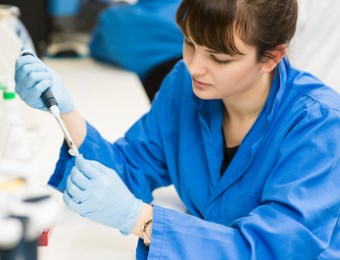 In an exciting partnership with the University of South Australia and University College London, Santos is providing $2 million to fund new research fellowships at UniSA's Future Industries Institute, and they are targeting women to fill the places.
The fellowships will see researchers in key areas for future industries development – minerals and resources engineering; energy and advanced manufacturing; environmental science and engineering; and biomaterials engineering and nanomedicine – supported to undertake research that will further industry innovation and creation in SA.
UniSA Vice Chancellor Professor David Lloyd says the support from Santos represents a strong investment in South Australia, which will help to attract some of the smartest minds to the state.
"This is a great move because it invests in the future intellectual capital of the state and that is the way to fire up the new ideas, discoveries, and refinements that will deliver for the SA economy," Prof Lloyd says.
"Our partnership with University College London, through the university's Future Industries Institute is spearheading the development of new research in key industry areas and research that is informed by industry needs globally.
"These fellowships will ensure that more women in science have the opportunity, not only to contribute to innovation, but also to lead that innovation."
Santos Executive Vice President Strategy and Corporate Services, Angus Jaffray says the partnership between UCL and UniSA underpins real strength in globally relevant research in SA.
"Santos is delighted to continue its strong commitment to world class industry-focused research capability in South Australia through this partnership with UCL Australia and UniSA," Jaffray says.
UniSA Deputy Vice Chancellor Research, Professor Tanya Monro says the scholarship announcement is especially important as UniSA gears up its activities as a part of Australia's Science in Australia Gender Equity (SAGE) project.
Modelled on the UK's Athena Swann Charter, SAGE is a partnership between the Australian Academy of Science and the Australian Academy of Technological Sciences and Engineering, to address the systemic barriers to women's career advancement.
"Women make up more than half of science PhD graduates and early career researchers, but just 17 per cent of senior academics in institutions across the country – that is something we want to turn around at UniSA," Prof Monro says.
The new research fellowships will be available for a period of five years and successful candidates will receive an annual support package to cover travel and other additional expenses.
Vice Chancellor, Professor David Lloyd will launch new Fellowships at a special University of South Australia UK Alumni cocktail reception at Australia House, London.
The event will be attended by South Australian Agent General, Bill Muirhead AM; the Deputy High Commissioner of Australia, Matt Anderson; UCL Provost, Professor Michael Arthur and 100 University of South Australia graduates and friends, including 2016 UniSA honorary doctorate recipient Sir Barry Humphries.
Media contact: Michèle Nardelli mobile + 61 418 823 673 email michele.nardelli@unisa.edu.au