PM's New Innovator Prize for UniSA's Dr Colin Hall
October 19 2016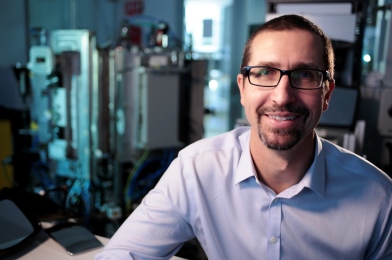 As a named inventor on five patents and one of the driving innovators of South Australia's now highly successful plastic automotive mirror, Dr Colin Hall is certainly setting the standard for the Prime Minister's inaugural New Innovator Prize.
A physicist by background, Dr Hall cut his teeth in the highly competitive ophthalmic coatings market, and has been a critical team member in the SMR Automotive and UniSA research partnership to develop a fully plastic wing mirror that can take all the road can offer.
The South Australian invention is a huge success delivering sales in excess of $162 million globally with more than 1.6 million mirrors produced in Adelaide to date.
Dr Hall received his prize in Canberra last night and gave credit to colleagues at UniSA's Future Industries Institute and a fantastic partnership with local manufacturers SMR.
"This has been a really rewarding partnership and one where we have worked hand-in-glove with our industry partners to deliver the technology to support the development of a product that answers all challenges," Dr Hall says.
"I am very proud to receive the award but also pleased to have earned it working with a dedicated 'can do' team around me."
Dr Hall is a coatings physicist with experience in both private industry and academia.
The innovation challenge for car mirror manufacturers was to overcome problems with coating adhesion to plastic, oxidation of any reflective mirror layer and coating stability in both sunlight and extreme temperatures.
If Dr Hall and his team could make it work, the plastic mirror would deliver a safer product, less inclined to shatter, much lighter and therefore efficient, and something that could be manufactured relatively cheaply, in large volumes.
It was Dr Hall's creativity and ability to try unconventional ideas – including applying the mirror coating over the protective coating - that saw the team develop a world first efficient and durable plastic mirror in 2009, which was successfully commercialised by 2012.
And the team hasn't stopped there Dr Hall says.
"In the past four years we have developed illuminated badge concepts and have even made a satin-effect coating which have both been shown to European car makers," Dr Hall says.
"We have improved the performance so that the plastic mirror technology can be used wherever plastic parts need to be made to look metallic.
"However, it must also be made at a commercial scale and acceptable price. If we can achieve this then, we may see the plastic mirror technology not just on many mirrors, but also throughout the cars."
UniSA Deputy Vice Chancellor Research Professor Tanya Monro says she is delighted to see Dr Hall win such outstanding recognition for his work.
"Colin's expertise and passion for translational research is exemplary and he truly embodies what it means to do research inspired by the needs of industry," Prof Monro says.
"He is equally at home in a research laboratory or a production environment and his experience of both has equipped him to really listen to industry and work within teams to deliver.
"Working at the interface of science and engineering, his results have driven important innovation for the automotive industry.
"I know that his approach and that of the Thin Film Coatings Research Group at the Future Industries Institute will continue to be inspired by the needs of our industry partners and the creativity of our highly innovative researchers."
Media contact: Michèle Nardelli office +61 83020966 mobile +61 418 823 673 email michele.nardelli@unisa.edu.au