Australian Speedrunning Marathon 2019
July 2 - 4 July 2019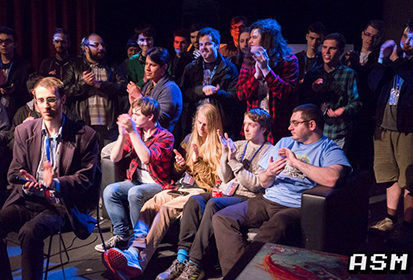 Location
MOD. - North Terrace, adj. Morphett Street Bridge
Tuesday 2nd July 10AM - Thursday 4th July 9.30PM

The Australian Speedrun Marathon is a bi-annual event where we show off some of Australia's greatest video gaming talent. A 'speedrun' is where you attempt to complete a video game as fast as possible, by any means necessary - including glitches, shortcuts, and the like. Our exhibitors will show off their skills over 60 hours of non-stop, fast-paced action. If you're into games at all, there will be a speedrun for you - from Pokemon, to Super Mario, to Metal Gear Solid, and much more - we've got it all. It's also a charitable event - we're raising money in 2019 for beyondblue, a fantastic charity that we have been proud to support during our July events for the past four years.
Our full schedule can be found at https://horaro.org/asm2019/; the event will be running continuously from Tuesday 2 July, 10:00am, all the way through to Thursday July 4, 9:30pm. This will be the longest continuous speedrun marathon in Australian history, and we're proud to present it to you soon! See you there!
Gamers from all over Australia will be attempting to beat their video games as fast as possible for over 75 hours, raising money for beyondblue ! The marathon will continue the following weekend at the speedrunning stage at AVCon: Adelaide's Anime & Video Games Festival. The entire event will also be livestreamed online at: twitch.tv/ausspeedruns !
| | |
| --- | --- |
| Date and time | Tuesday 2nd July 10AM - Thursday 4th July 9.30PM |
| Location | MOD. - North Terrace, adj. Morphett Street Bridge |
| Cost | Free Event - Come and check it out! |
| Live streamed | The entire event will also be livestreamed online at: twitch.tv/ausspeedruns |