Special occasions

A unique Planetarium experience for your special event!
Would you like to celebrate a special moment in a unique and special location? Or wish someone a Happy Birthday with a unique birthday gift?
A private Planetarium session will provide a unique experience for couples or very small groups and can be tailored to the celebration including special projections onto the dome. You can also choose from three fantastic movies to customise your experience.
Special Occasion Bookings
The Adelaide Planetarium can provide a unique venue for a special occasion ranging from anniversaries, proposals and corporate rewards. Special Occasion sessions are an intimate session for a maximum of 4 people and the unique venue will offer an experience unlike any other ordinary celebration.
Cost:
Booking Form: 2019 booking form

Guide: Download special occassions guide
Birthday Bookings
Looking to celebrate a birthday in an unforgettable location? Experience your own private planetarium session and celebrate your birthday under the stars.
Please note that the planetarium does not offer any party room facilities however there are plenty of lawn areas around campus with outdoor tables and chairs that you may choose to use for picnics or cakes. There are also local playgrounds in and around Mawson Lakes such as Mobara Park which has toilet and BBQ facilities.
Cost: $160 for up to 20ppl, $7 per person thereafter.
Booking Form: 2019 booking form
Guide: Download birthday bookings guide
---
Guest Testimonial
"It was excellent. Brian was rapt and he and Martin definitely spoke the same language! :o) Please pass on our thanks again to Martin - his knowledge and presentation was terrific and certainly made Brian's birthday memorable. We've recommended the tours to several friends already ... Many thanks" Kerry Cox
---
Bookings and enquiries:
The Planetarium is available for bookings 7 days a week from 10am - 7pm (by appointment)
Special occasion & birthday sessions run for approx 50 minutes and can be arranged as shorter or longer sessions available upon request.
All special occasion or birthday bookings must be paid in full prior to the date of your arranged session.

Telephone: 08 8302 3138
Email: adelaide.planetarium@unisa.edu.au
Interesting Information
Learn something new and check out some fun facts and links on the solar system, constellations and more!
Follow us on Facebook
The Adelaide Planetarium has its own Facebook page. 'Like' us to find out about upcoming events, school holiday programs and more.
Locate us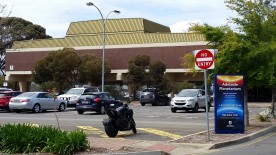 The Adelaide Planetarium is located at the UniSA Mawson Lakes Campus in the Building P - Level 2 (office at front desk Level 1).