Group bookings

The Adelaide Planetarium is a great place to visit and is available for group bookings. Whether you are a sporting club, a church group or any other organisation, the Adelaide Planetarium is a great venue to add to your annual calendar of outings.
Sessions run for approx 50 minutes.
Available 7 days a week from 10am - Evening (by appointment).
Admission
Admission for children, students and concessions are $8.00 and tickets for adults are $10.00. Minimum $140 spend.

Guide
Download guide for groups in pdf
Download guide for scouts in pdf
Bookings and enquiries
Booking Form: 2019 Group booking Form / 2019 Scouts booking form
Phone: 08 8302 3138
Email: adelaide.planetarium@unisa.edu.au
To make a reservation for a group viewing session, please complete the required booking form. Bookings will be processed during office hours and a confirmation email will be sent once completed.
Planetarium staff can take group bookings via phone during office hours Monday - Friday, 9.30am to 4.30pm.
Interesting Information
Learn something new and check out some fun facts and links on the solar system, constellations and more!
Follow us on Facebook
The Adelaide Planetarium has its own Facebook page. 'Like' us to find out about upcoming events, school holiday programs and more.
Locate us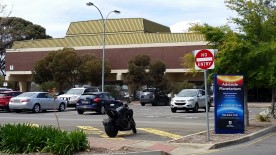 The Adelaide Planetarium is located at the UniSA Mawson Lakes Campus in the Building P - Level 2 (office at front desk Level 1).