UniSA and Hewlett Packard to partner for Australian enterprise growth
February 10 2014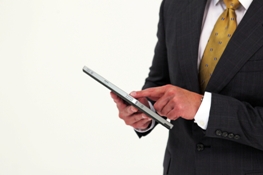 South Australian employment growth and innovation in the information and technology sector is poised for transformation with the announcement today of a new University of South Australia partnership with global IT giant Hewlett-Packard (HP).
The new partnership, which has received strong support from the State Government and is the first of its type in Australia, will see HP significantly expand its South Australian workforce by more than 400 people and open a new HP Innovation and Collaboration Centre at UniSA's City West campus.
The Centre will have its permanent home in the University's new science building being constructed as part of the health precinct developments.
HP will be a foundation partner in UniSA's Science Creativity and Education studio (SciCEd) which will also be located in the new building.
As part of the new partnership, UniSA and HP will co-develop and launch a new four-year honours degree program in IT and business informatics, coupling leading edge training and education with internships in HP for students during the course of their studies.
&nbsp The State Government will also commit $150,000 a year for a student entrepreneur initiative that will support innovative students to pursue commercialisation of new ideas in the ICT sector in partnership with HP and other companies.
UniSA Vice Chancellor Professor David Lloyd says the new partnership is a model for industry, government and university collaboration.
"We're thrilled to partner with Hewlett-Packard in an initiative that so perfectly fits not only our aspirations and culture as a university, but theirs as a multinational corporation with global scale and reach – to build a vibrant environment of enterprise and engagement which presents tangible opportunities for South Australians to lead innovation and economic growth," Prof Lloyd says.
"The creation of the new HP Innovation and Collaboration Centre is a first for any Australian university and is great news for students, for industry in South Australia, and for the State's profile as a smart, globally connected place to do business."
He says the partnership will support education and higher achievement in science, information and communications technologies, engineering and maths (STEM) - all key in underpinning the next generation of entrepreneurs who can succeed on a global scale.
"HP's expansion and investment in South Australia will bring jobs growth but also vital opportunities for students and graduates to engage in industry-based experience and learning," Prof Lloyd says.
"The new HP Innovation and Collaboration Centre at UniSA will provide a unique environment where students, graduates, commercialisation experts and industry have opportunities to explore new ideas for business and products, acting as an incubator for new small to medium enterprises and a pipeline for the commercialisation of new innovations."
Managing director, HP South Pacific, Nick Wilson says HP is excited to be partnering with UniSA and the South Australian Government to help develop further and promote ICT education, training and careers in the State.
"Our collaboration with UniSA in developing a four-year honours degree will give South Australian students access to world-leading ICT education," Wilson says.
"SMEs, industry and students will also be able to take advantage of the extraordinary new Innovation and Collaboration Centre.
"In addition, HP will increase its workforce in the state by some 400 people over the next four years.
"We are committed to South Australia and to this exciting new ICT partnership."
Prof Lloyd says the UniSA-HP partnership and the HP Innovation and Collaboration Centre at UniSA will further contribute to a thriving education precinct in the west end and one rich in opportunities for students to engage with industry, to innovate and to develop the kinds of networks that underpin success and entrepreneurship.
Media contact: Michèle Nardelli office: 08 8302 0966 mobile: 0418 823 673 email: Michele.nardelli@unisa.edu.au
Read the News Release by Premier Jay Weatherill (pdf link):
Hundreds more high-end technology jobs to be created in Adelaide