Beach safety is no accident for UniSA's international students
March 15 2018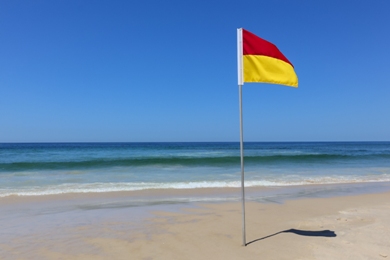 For international students, Australian beaches epitomise summer, promising golden sands, spectacular surf and endless sunshine, they are the ultimate summer fun cocktail.
But for students inexperienced in ocean swimming, learning more about safety is a must, particularly when the ocean can be so unpredictable.
Keen to ensure the safety of its new international students the University of South Australia is working in partnership with the Grange Surf Life Saving Club to run a special Surf Awareness and Beach Safety session at Grange Beach on Saturday 17 March from 9:00am-1:00pm.
UniSA International Student Advisor, Louise Evershed says the session will deliver essential beach and surf safety education for international students, to make sure they enjoy South Australian beaches this summer, but safely.
"It's wonderful to see so many of our new international students excited about going to Adelaide's beautiful beaches, but staying safe at the beach requires knowledge and skills," Evershed says.
"This session will address a broad range of issues—from sun-smart activities, such as putting on sunscreen and staying hydrated, to active beach safety and surf rescue scenarios. The event will finish with an Aussie BBQ lunch, hosted by the Grange Surf Life Saving Club.
"We want to ensure our international students to have access to all the knowledge they need to enjoy their time in Australia, whether that is studying at university or having fun on the weekends."
The 2017 Royal Life Saving National Drowning Report says that 291 people drowned in Australian waterways from 1 July 2016 – 30 June 2017, with 50 of these occurring at beaches. Over half of these drowning deaths occurred while swimming or recreating.
David Forrest, Club Vice Captain at Grange Surf Life Saving, says safety is paramount for all beach goers, whether they are first time visitors or regulars.
"The safest way to enjoy the beach is to swim between the flags. This is where we have trained surf lifesavers patrolling the area and looking out for signs of trouble," Forrest says.
"It's important to remember not to go beyond your level of experience. Rips, tides and wind movement can make the sea unpredictable and can create unsafe conditions for inexperienced swimmers.
"Many beach incidents are avoidable with knowledge and common sense.
"Things like diving into shallow water and jetty jumping are absolute no-gos that can result in serious injuries, but even blow-up flotation devices can pose a risk as they are easily swept out to sea.
"This beach session presents a fantastic opportunity for new international students to gain a solid grounding in beach and surf awareness - safety fundamentals that will stay with them for the rest of their lives."
…………………………………………………………………………………………………………………………
Contact for interview: Louise Evershed office (08) 8302 0630
email Louise.Evershed@unisa.edu.au
Media contact: Annabel Mansfield office (08) 8302 0351 | mobile: 0417 717 504
email: Annabel.Mansfield @unisa.edu.au