Student Experience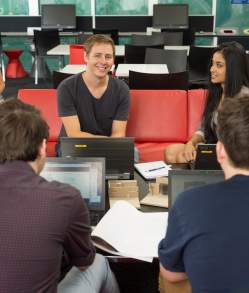 Studying is much more than attending lectures and producing assignments. The University of South Australia provides students with more than just a degree in their chosen discipline area. Studying in the Division of Education, Arts and Social Sciences can provide students with an experience that extends beyond the classroom; opportunities to participate in programs enabling students to develop leaderships skills, get hands on experience in their field of study and develop the 'soft skills' that future employers are looking for.
Students can work with state-of-the-art equipment to cover a news story, work a real life art project for a community organisation, experience an Indigenous community helping those in need, educating young minds or finding out more sustainable ways to design and build buildings. Students undertaking a degree with the Division will have the opportunity to gain experience in their future profession first-hand before they finish their degree.
---
Student's research supports modification of recent legislation
March 2014 - Nicole Stevens, a Bachelor of Social Work (Honours) student in the School of Psychology, Social Work and Social Policy recently undertook research examining sentencing submission transcripts as part of her Honours thesis. Her findings revealed that some perpetrators of child sexual abuse were constructed as persons of good character throughout the defence's sentencing submissions, which had the affect of minimizing and silencing child sexual abuse and constructing a merciful and lenient approach to perpetrators in the sentencing context of the criminal justice system.
Ms Steven's research argued that the concept of 'good character' in the sentencing of child sexual abuse matters should be examined and suggested that South Australia should adopt a 2009 New South Wales' law that only allows child sex offenders to use examples of their past good character as justification if they had not used that same behaviour to take advantage of their victims.
Attorney General John Rau of the South Australian Government agrees with the findings, and vows to introduce legislation as early as April 2014 to address this issue.
Ms Steven's completed her Honour's degree last year and not only received a 1st class grade for her thesis, but also had her research reported on the front page (and on following page 10) of the Advertiser. The full story can be found here.